Year 1 2020 - 2021
Mrs Williams 1/2LW
Hello, I am Mrs Williams. I have worked at Woodlands for 15 years, I think I'm part of the fixtures and fittings now! I have worked across Nursery, Reception, Year 1 and Year 2, and am currently Key Stage 1 and phonics lead in school. I am extremely passionate about Early Years Education and believe that firm foundations and learning through play are the keys to instilling a life long love of learning in our youngest children.
I have 2 daughters aged 8 and 4 who constantly keep me busy! We love to spend time together as a family exploring in the woods, going to the park or the beach or simply visiting Grandparents and Great-Grandparents. We also love reading, crafty activities (who doesn't love a bit of glitter?) and going shopping!
Mrs Watts 1WL
Hello, I am Mrs Watts and have worked at Woodlands for the past 14 years. During my time at Woodlands, I have worked primarily across Key Stage 1 and in Lower Key Stage 2.
In my spare time, I enjoy running, reading and spending time with my son and daughter.
Mrs Lonsdale 1WL
I have worked here at Woodlands for eleven years. I love being part of the Key Stage One team and working in Year One. When I am not in school I love to spend lots of time outside with my husband and our little girl at our allotment and in our garden!
Miss Sayce 1ES
Hello! My name is Miss Sayce and this is my first year working at Woodlands Primary School.

I am very excited to be your teacher in Year 1, and I know we are going to have lots of fun! I enjoy teaching all subjects but I particularly like history as there are so many exciting things to discover. I also love reading, some of my favourite books are 'Stickman' by Julia Donaldson and 'The Very Hungry Caterpillar' by Eric Carle.

When I am not in school, I love to bake tasty treats for my friends and family, as well as grow fruit and vegetables in my garden! I also like to watch football, especially my favourite team, Shrewsbury Town FC.

I can't wait to get to know you all, I know we will have so much fun and learn a lot!
Welcome to Year 1!
Meet the staff who work in Y1 - click the links below:
https://www.youtube.com/watch?v=gfDX4fEq4AU&t=1s - Mrs Lonsdale
https://www.youtube.com/watch?v=j59BkxAnBoQ&t=3s - Mrs Watts
https://www.youtube.com/watch?v=FV8EHUAQa1k - Miss Sayce
https://www.youtube.com/watch?v=pfmCdmklAq8 - Mrs Williams
Autumn 1

Literacy…
This half term we are looking at the text "Look Up!" by Nathan Byron.
In this story we meet Rocket, stargazer extraordinaire! She's on a mission to show everyone a spectacular sight... BUT will they look up in time to see it?
Literacy Mastery Targets for Autumn 1:
Attempt to write short sentences in meaningful contexts
Leave spaces between words
Apply taught sounds into writing
Maths
In Maths this half term, we will:
Develop our knowledge of place value (within 10) by…
Counting to 10, forwards and backwards, beginning with 0 or 1, or from any given number.
Count, read and write numbers to 10 in numerals and words.
Given a number, identify one more and one less within 10.
Identify and represent numbers using objects and pictorial representations including the number line, and use the language of: equal to, more than, less than, most, least.
Phonics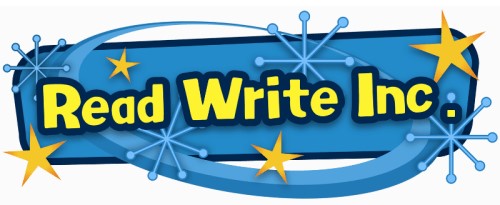 Read Write Inc. sessions will continue to develop the children's reading skills as they learn their sounds, segmenting and blending whilst also developing their comprehension skills. If you would like to help your child to practise their phonic knowledge for reading at home, then follow the link www.ruthmiskin.com for more information.
Science
Our Science topic this half term is 'My body'. The children will be encouraged to name simple parts of the body and will explore the 5 senses.
Topic
During our topic work, we will be finding out more about ourselves- our likes and dislikes and what we got up to during 'lock down'. We will also use this theme to create self portraits, naming the parts of our body as we do so.
Some useful websites:
http://www.bbc.co.uk/bitesize/ks1/maths/
http://www.topmarks.co.uk/Interactive.aspx?cat=8
https://www.oxfordowl.co.uk/for-home/find-a-book/library-page/
Some apps for tablet computers are:
King of maths, Doodle maths, Monster math, Conundra math and Penguin jump maths!
P.E Information
Please make sure that your child wears their PE kit to school on a Tuesday. At the moment, PE will take place outside.
Indoor kit: a white t-shirt, black shorts, pumps and socks
Outdoor kit: plain, dark coloured jogging bottoms, a jumper or hoody and outdoor trainers, socks
Please make sure all items of school clothing are clearly labelled and that water bottles are sent in daily.
Files to Download
Year 1: News items
There are no News items to display
Year 1: Blog items
There are no blog items to display
Year 1: Display Work items
There are no Display Work items to display
Year 1: Events items
There are no Events items to display