Year 1 2018-2019
Miss Morgan Class 4
I am new to Woodlands and am enjoying being part of an enthusiastic and passionate team! Before joining Woodlands I taught at a school in Hull. In my spare time I enjoy playing hockey and going to the gym.
Mrs Lonsdale Class 5
I have worked here at Woodlands for nine years. I love being part of the Key Stage One team and working in Year One. When I am not in school I love to spend time with my family, especially my little girl Charlotte.
Mrs Watts Class 5
Hello, I am Mrs Watts and have worked at Woodlands for the past 12 years. During my time at Woodlands, I have worked primarily across Key Stage 1 and last year I worked in Lower Key Stage 2.
In my spare time, I enjoy swimming, reading and spending time with my son and daughter.
Miss Vickers Class 6
Hello, I am Miss Vickers and am loving being part of the team at Woodlands Primary School. I first began teaching in the UK where I have taught in both large city and small village schools. I moved to Dubai for five years where I was Head of Year One and Year One class teacher. Whilst living in Dubai, I did some traveling and took the opportunity to visit places such as Asia, Australia and Japan. Outside of school, I like to go to the gym and swimming. I enjoy spending time with my family, country walks as well as trips to the cinema and eating out.
Autumn Term 2018
Welcome back! We hope you all had a wonderful half term break!
It is now Autumn Term 2. This half term our topic is 'The Great Fire of London'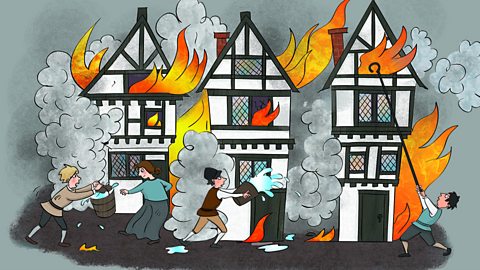 In Literacy this term we will focus on the story of Nibbles, a very naughty monster who loves to nibble books! The children will be absorbed in the text through a range of writing opportunities, resulting in the children writing their very own version of the story and creating their own book nibbling monster. We will continue to work hard remembering all the things we need to be a good writer e.g capital letters, finger spaces and full stops. We will also look at using the conjunction 'and' to join two clause and even begin to focus on adding –s or –es to words to make them a plural.
In Maths this half term we will be looking at 2D and 3D shapes. The children will revise the names and learn the properties of different shapes. We will also look for them in real life contexts around us. We will continue our number work focus moving into combing different quantities, amounts and numbers. We will look closely at the addition and subtraction symbols and what these mean. The children will explore these concepts using concrete resources such as cubes, objects and counters.
In Science we will continue our topic focus on Humans. The children will identify, name, draw and label the basic parts of the human body and say which part of the body is associated with each sense. We shall also continue learn about the changing natural world around us. Focusing on the seasons changing from autumn to winter. We will discuss how the weather, plants and daylight are all affected.
In History this term we will look at two important historical events in British history beyond living memory. The Great Fire of London and Guy Fawkes and the Gunpowder plot.
In DT this term we will put our design skills to the test whilst we design and make our very own cage to stop Nibbles the monster escaping! We will be exploring lots of different cutting and joining techniques through junk modelling.
Read Write Inc. sessions will continue to develop the children's reading skills as they learn their sounds, segmenting and blending whilst also developing their comprehension skills. If you would like to help your child to practise their phonic knowledge for reading at home, then follow the link www.ruthmiskin.com for more information.
Some useful websites:
http://www.bbc.co.uk/bitesize/ks1/maths/
http://www.topmarks.co.uk/Interactive.aspx?cat=8
https://www.oxfordowl.co.uk/for-home/find-a-book/library-page/
Some apps for tablet computers are:
King of maths, Doodle maths, Monster math, Conundra math and Penguin jump maths!
P.E Information
Please make sure that you bring the following items in your P.E kits:
Class 4 - Monday and Wednesday
Class 5 - Wednesday and Friday
Class 6 - Monday and Wednesday
Indoor kit: a white t-shirt, black shorts, pumps and socks
Outdoor kit: plain, dark coloured jogging bottoms, a jumper or hoody and outdoor trainers, socks
Please make sure all items of school clothing are clearly labelled and that water bottles are sent in daily.
Files to Download
Year 1: News items
There are no News items to display
Year 1: Blog items
There are no blog items to display
Year 1: Display Work items
There are no Display Work items to display